ALL ABOUT FUN
PUPPY PLAY DATES
Getting a new puppy is an exciting time as you form a bond with the new addition to your family. It is important to socialise your puppy after they have had their vaccinations to help them grow into a balanced and healthy dog.
When pups are young, their minds are like sponges and ready to absorb almost anything we throw their way. Puppy play dates can help the positive development in your pup.
The puppy play dates we offer are not formal training or schools. They are all about socialising your pooch in a controlled environment. They get to interact with other puppies as well as my older dogs which helps to teach them the 'puppy rules'
They usually learn little things like how to use stairs, a dog door and how to interact confidently with other dogs. They learn from interacting with older dogs and it teaches them pecking order and how to interact like dogs are supposed.
Benefits of Puppy Play Dates
Be comfortable around other dogs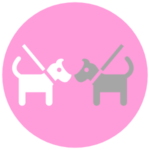 Learn appropriate behaviour from unfamiliar dogs